Congregation Beth Tefillah
CBT Participates in the 2018 Daffodil March
Our Community In Pictures
Sat, April 21 2018
6 Iyyar 5778
Sandy Springs Community Eruv Status
The Eruv is Up!
Last checked 7:02pm - 4/20/2018
Weekly Parsha
Today's Sefirah Count Is 21
היום אחד ועשרים יום שהם שלשה שבועות לעמר
Parshat Tazria-Metzora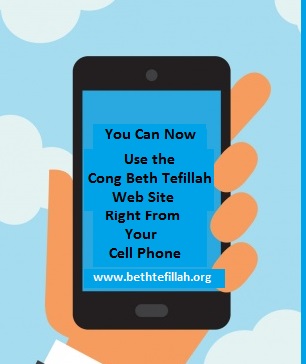 Refuah Sh'leimah! A speedy recovery to:
Shmuel Yaakov ben Keren
Avraham ben Rachel
Ephraim David ben Chana
Devorah bat Sucia
Moshe ben Chana
Chaim ben Faiga
Sarah bat Rosa
Yossi ben Gittel
Isaac ben Fenia
Tzivia bat Hinda
Yeshua Yisroel ben Chaya
Zmanim
Alot Hashachar
5:41a
Earliest Tallit
6:12a
Netz (Sunrise)
7:00a
Latest Shema
10:18a
Zman Tefillah
11:24a
Chatzot (Midday)
1:36p
Mincha Gedola
2:10p
Mincha Ketana
5:28p
Plag HaMincha
6:51p
Shkiah (Sunset)
8:13p
Shabbat Ends
8:53p
Tzeit Hakochavim
8:52p
More >>
Community Shabbat Lunch Israeli Style
Saturday, April 21
(after Musaf)
An Evening of Contemporary Judaic Art
Sunday April 22
7:30 p.m.
Shavuot Lunch
Sunday, May 20
(after Musaf)
Sat, April 21 2018 6 Iyyar 5778